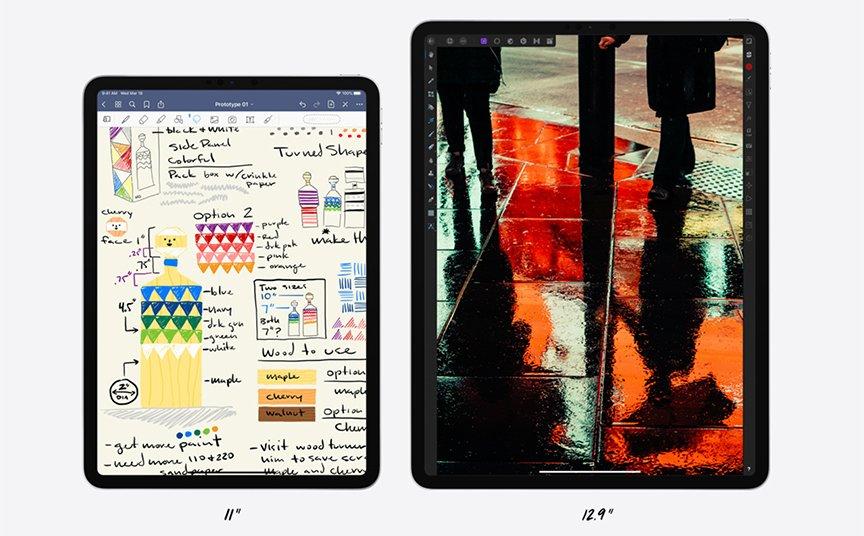 Stunning Ultra HD Retina display
The edge-to-edge Liquid Retina display isn't just gorgeous and immersive, it's also packed with incredibly advanced technologies. Quite simply, this combination of features makes this monitor the most advanced in the world.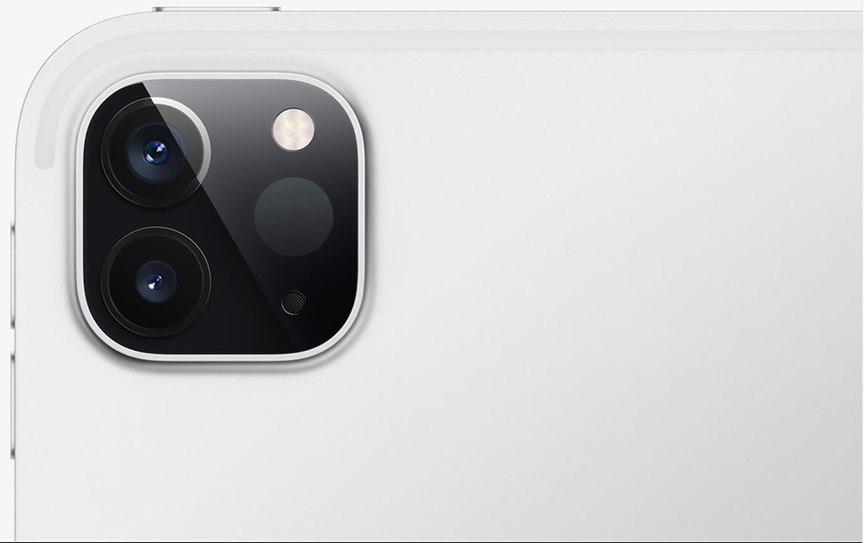 PRO cameras
Advanced cameras combined with a large screen, fast performance, and high-resolution sensors have always made iPad uniquely superior. The new Ultra HD and Ultra Wide cameras help you frame your photo or video perfectly. Along with built-in microphones and four speakers, you can even set up a multi-camera movie platform.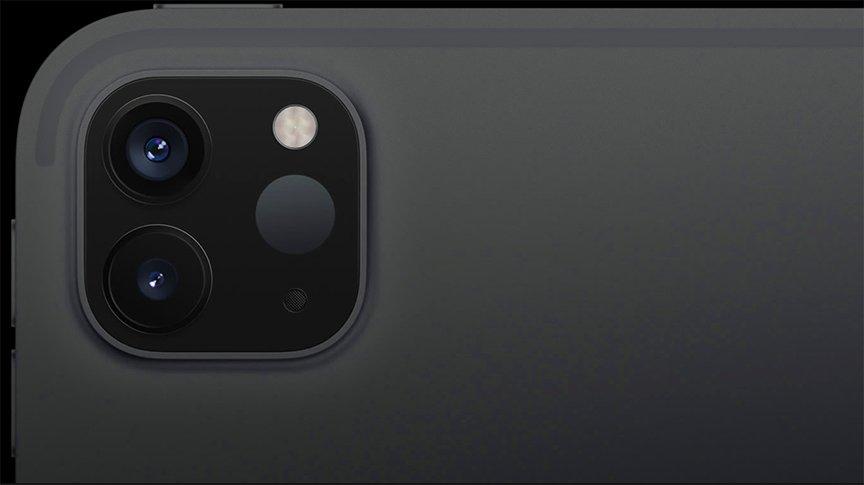 LiDAR Scanner Technology
LiDAR (Light Detection and Range) is used to determine the distance by measuring the time it takes for light to reach an object and to be reflected. It's so advanced, it's being used by NASA. It's now engineered to fit the all-thin and light iPad Pro. The specially designed LiDAR scanner uses direct time-of-flight to measure reflected light from a distance of up to five metres, both indoors and outdoors. It operates at the photon level at nanosecond speeds and opens up huge possibilities for augmented reality and beyond.
augmented reality
With the new iPad Pro, augmented reality apps are even more real. Developers will be able to create more immersive experiences by allowing them to control the movement and advanced structuring of objects.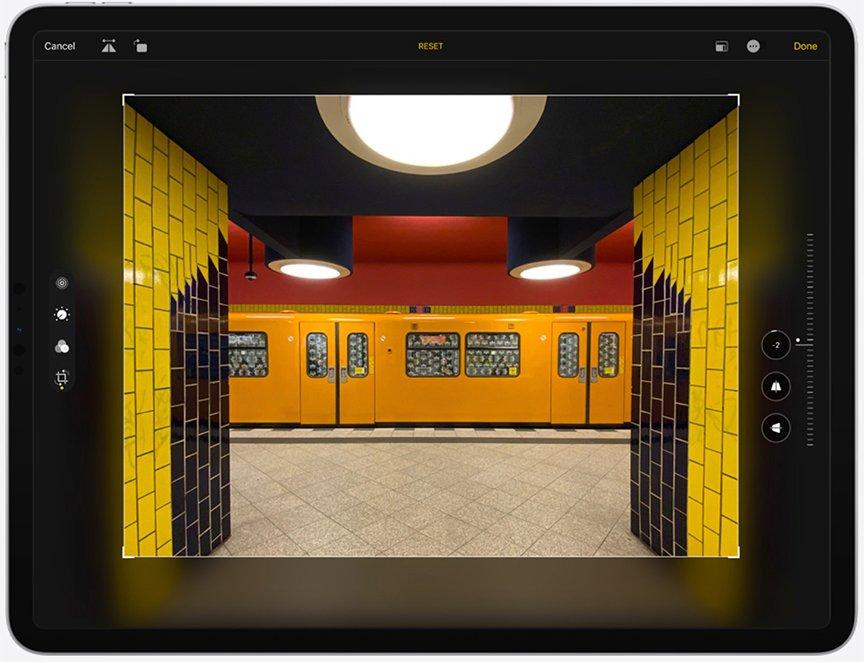 Photography and editing capabilities
The professional camera system makes the iPad Pro incredibly versatile. Shoot, edit and share 4K video, all on the same device. Capture an entire room in one shot with your Ultra Wide camera and use Markup to instantly recreate it. Or scan a document, sign or mark it with your Apple Pencil, then send your notes back in one click.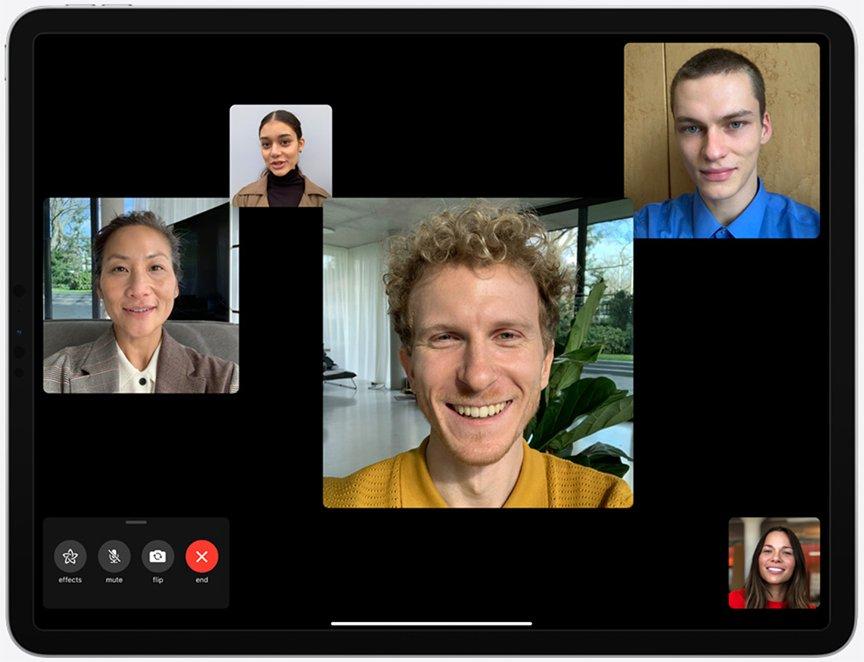 TrueDepth camera
The front-facing TrueDepth camera enables Face ID, the world's most secure facial recognition in a tablet. It also means you can chat with friends using FaceTime, take a portrait, or animate your Message conversations by turning yourself into an Animoji.
A12Z Bionic
With the A12Z Bionic chip, the iPad Pro is so fast that it outperforms most laptops available today. It makes everything you do fast and seamless, from your daily tasks to a graphics-intensive workflow. The 8-core GPU gives you more performance and realism for apps and games where it matters most.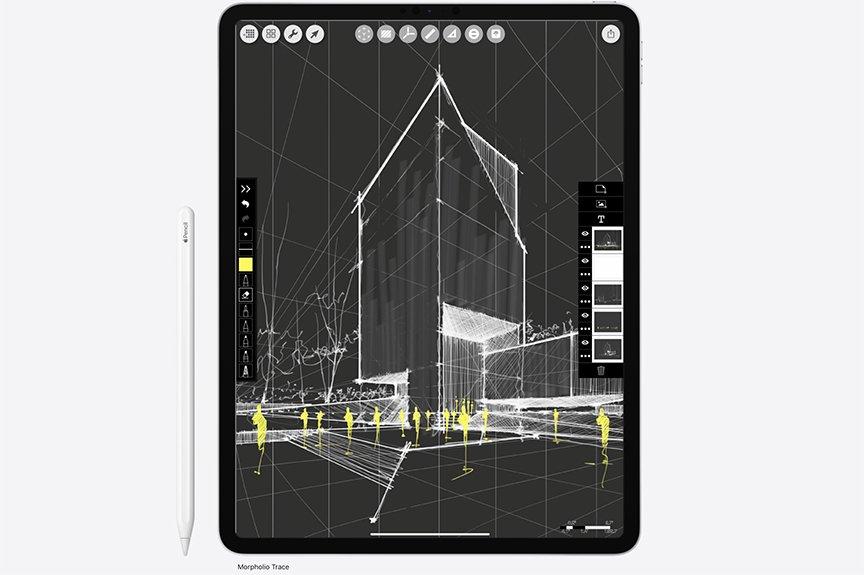 Professional workflow
A12Z Bionic is designed to work especially with professional applications. The octa-core graphics processor provides smooth performance for many tasks such as 4K video editing, 3D design, and augmented reality. The Apple-designed Neural Engine enables on-device machine learning to be ready for the next generation of professional applications.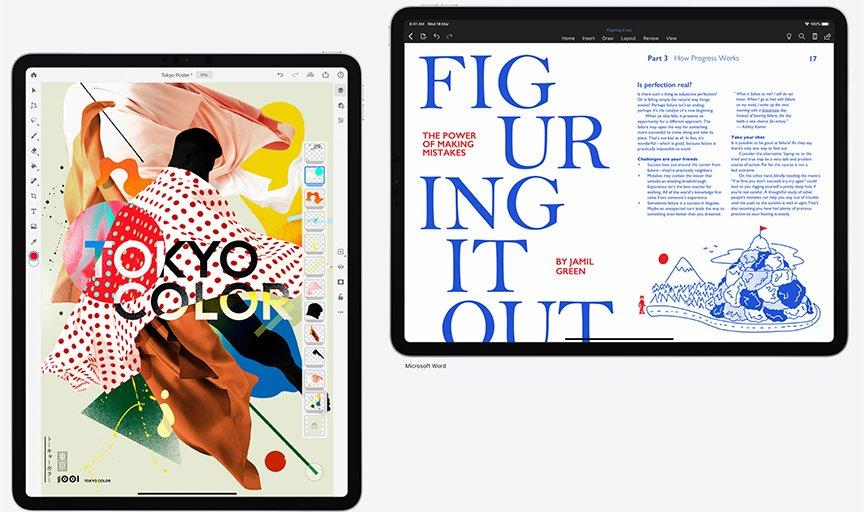 multitasking
iPadOS is designed to deliver the power and performance of the iPad Pro. To run powerful programs consistently and make interaction fast and smooth. This makes working with multiple applications simultaneously and moving between spaces quick and effortless.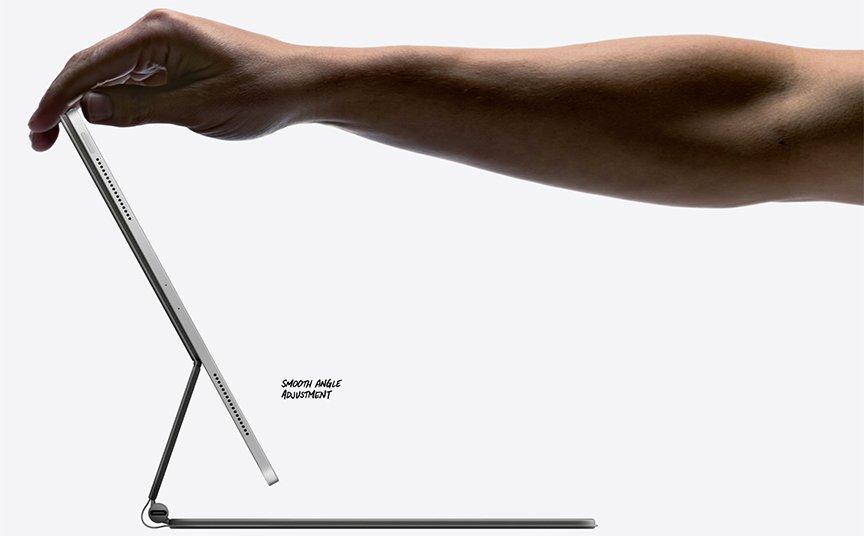 cool keyboard
The all-new Magic Keyboard is a great companion for iPad Pro. It features the best typing experience ever on an iPad, a trackpad that unlocks new ways to work with iPadOS, a USB C port for fast charging, and front and back protection. It features a compatible design, allowing you to magnetically attach the iPad Pro and seamlessly adjust it to your desired viewing angle.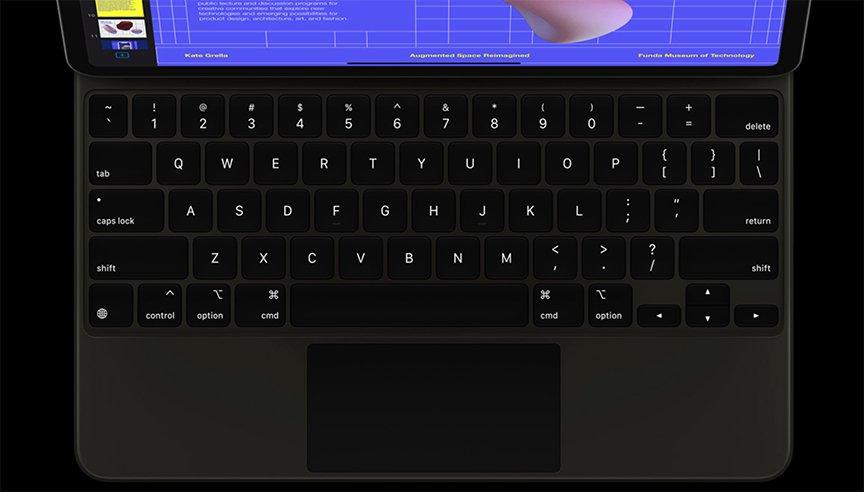 full size keyboard
The full-size keyboard designed for iPad Pro provides a responsive, comfortable and quiet typing experience. So go ahead, write your novel, or come up with a business plan. And with backlit keys, you can get things done day or night.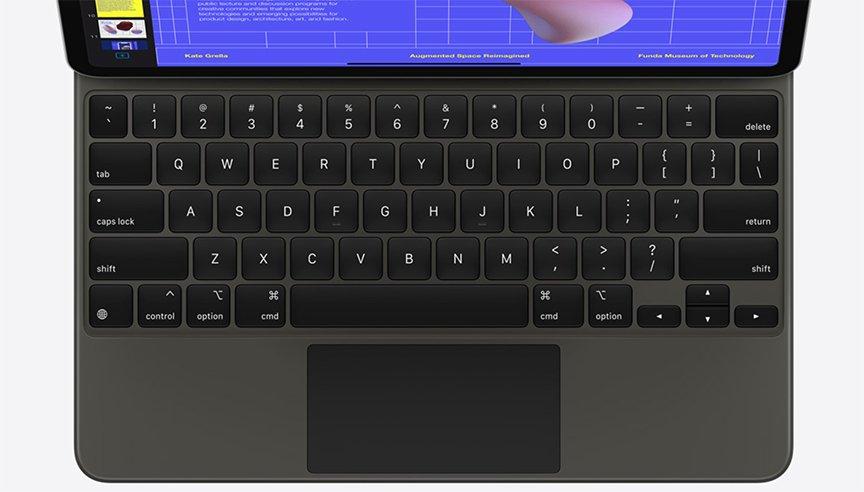 Trackpad redesign
Trackpad opens up a whole new way of working as it allows cursor control, ideal for tasks like editing a spreadsheet, selecting text, or simply doing everything right from the trackpad. And you can navigate seamlessly with familiar Multi Touch gestures, like swiping back to the home page and switching between spaces.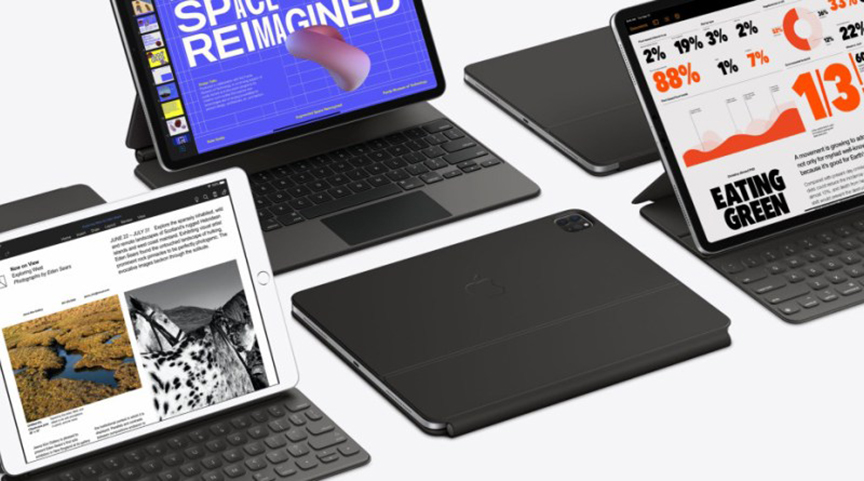 Trackpad for iPadOS
Trackpad support unlocks powerful new ways to use iPad The redesigned cursor experience is specifically designed to work in a touch environment, so it turns into the tool you need depending on the content you point to, like buttons, app icons and text. It's ideal for tasks where you need an extra level of precision, such as creating a spreadsheet or editing text. You can also use the suggested panel gestures to quickly navigate iPadOS.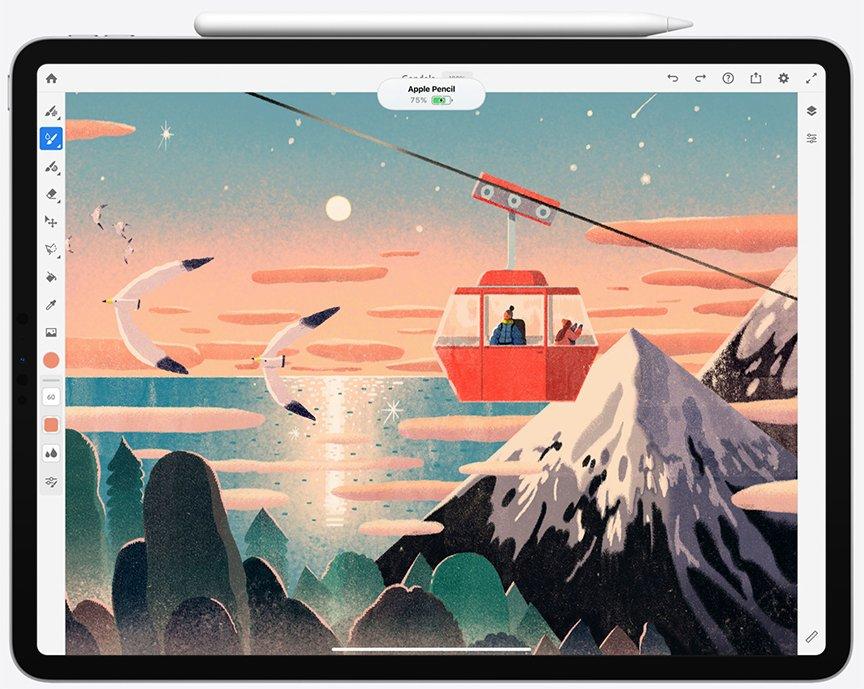 Unleash the creativity
Whether you're touching up a photo or a birthday card, Apple Pencil's tilt sensitivity enables all forms of artistic expression. And it charges while magnetically attached to your iPad Pro, so it's always ready when your inspiration strikes.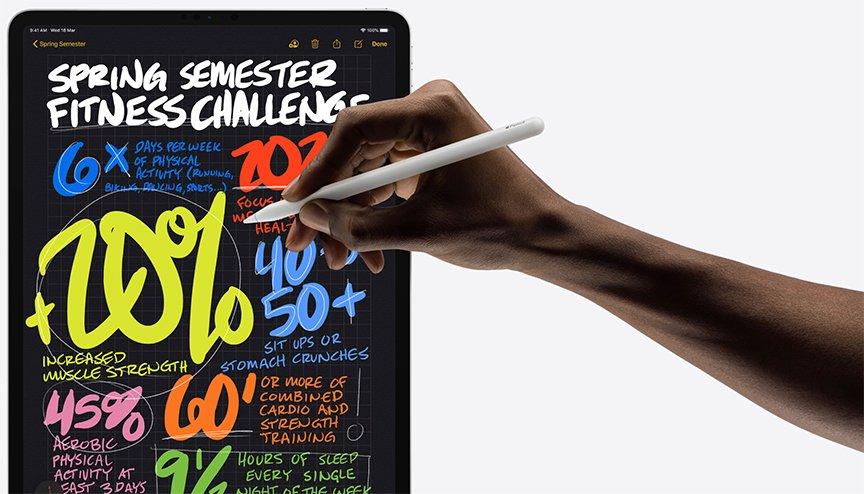 Take notes
iPad is perfect for taking notes and organizing ideas. Sketch out ideas in Notes as naturally as you would on paper, then categorize, share, or add them to a presentation. You can also search your handwritten notes. The App Store is also packed with great apps that allow you to take your notes organizing and jotting to the next level.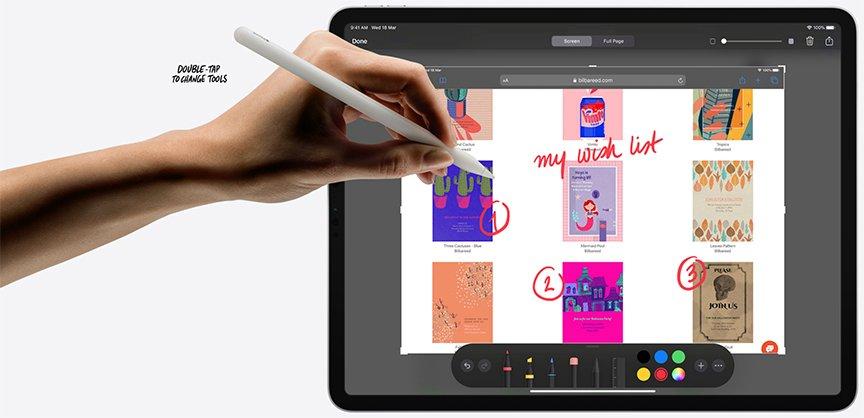 mark encoding
Marking things up with the Apple Pencil is a great way to get things done. Take a screenshot, then tag it. Scan a document, then sign it right on your iPad You can also easily mark up and send a PDF and even draw directly in apps like Keynote.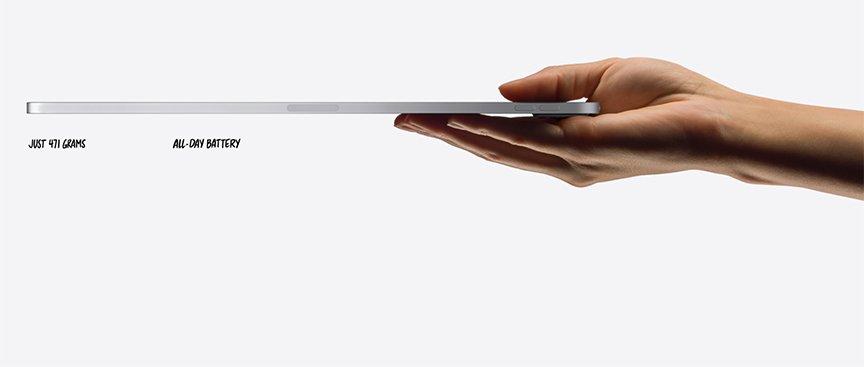 Slim, light and durable
iPad Pro delivers incredible performance while still being easy to carry with you everywhere in your bag, up to 10 hours of battery life to keep you going all day.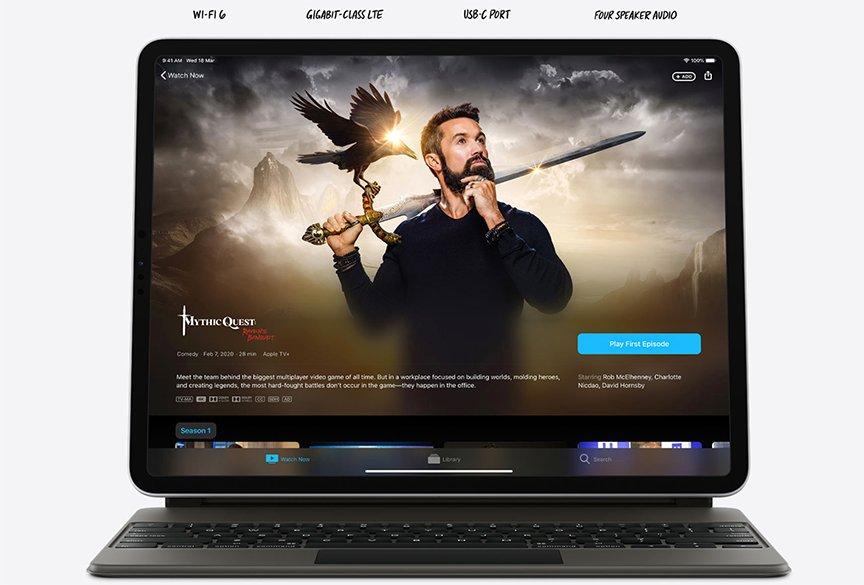 Connect to other devices
iPad Pro is the ultimate mobile workstation. You can print, view, and send files wirelessly. The USB C port also allows you to connect all kinds of other accessories, such as a camera, external drive, or monitor. Wi-Fi and LTE are faster than ever, so you can stay connected everywhere. And when it's time to stream your favorite content or listen to your party playlist, iPad Pro has a great sound system with four built-in speakers.
Notice
1. The iPad Pro screen has rounded corners that reflect a curved design, and these corners are located within a standard rectangle. When measured as a standard rectangle, the screen is 12.9 inches or 11 inches diagonally (actual viewable area is less).
2. Magic Keyboard and Apple Pencil sold separately.
3. Battery life varies with use and performance. See apple.com/sa/batteries for more information.
4.Gigabit-class LTE, 4G LTE Advanced, 4G LTE and Wi-Fi connections available in select markets and through select carriers. Speeds vary based on site conditions. For details about LTE support, contact your carrier and see apple.com/sa/ipad/LTE.
• Some features may not be available for all countries or regions.
• Applications are available in the App Store.
• App features shown are for illustrative purposes only and may not currently be available for each app. Check with the app developer for feature availability.
• Apple Arcade requires a subscription.